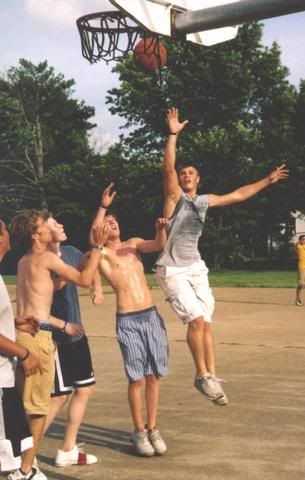 One of the first times I came to realise that going shirtless while exercising was socially acceptable was via that great American tradition of 'shirts vs skins' team play. It's especially common in basketball. But it is, in some places, under siege - so highlighting the topic might be forgiven though this is a 'running-centric' site. Appended below is an editorial from the Orchard Farm Eagle Vision (
click here for the original
), a school publication.
Shirts vs Skins
by Preson Steinhoff
Is it wrong for a man to have his shirt off? Recently, the boy's basketball team has been instructed to not take their shirts or jerseys off at any time or for any reason during basketball practice. This rule was made to decrease the spread of staph infection. Boys bumping and running into each other while being sweaty and shirtless may transfer a staph infection from one person to another. However, there is a very low percentage of kids, and even a lower percentage (exactly zero percent) of boys basketball players who even have staph. This makes the possibility of spreading staph infection at Orchard Farm High School practically non existent. Not allowing the basketball team to take their shirts off during practice is not only ludicrous, but also absurdly preposterous.
Why should our basketball team not be allowed to take their shirts off during practice like every other school allows their boys to do? I have played on various basketball teams throughout my short career and every basketball team I have played for has always allowed "Shirts and Skins" to be played. They often allowed this when players were hot, which happens frequently with exercise. Our school might be trying to be a leader on this issue, by starting this "no shirtless policy". I have only one problem with our school being a leader, and that problem is; our school is leading in the wrong direction.
Playing "Shirts and Skins" has been a long lasting tradition in the history of basketball. Why should our school try to diminish this? Would you hate it if our school canceled Winter Break (a long lasting tradition)? The two situations are basically the same and should never be done. Our school believes that we should be able to wear our green and black reversible jerseys instead of going "Shirts and Skins". This is okay, only until we split up into three teams, and there are only two colors. Being able to take off our shirts would allow us to play with three teams and eliminate this problem we are faced with.
Men don't have to wear shirts in a swimming pool, (which could spread staph easily through the water), so why can't they go shirtless in a basketball gym? It is not considered indecent exposure if a man has his shirt off. We are not practicing with women. Some may think that we are putting pressure on kids to take their shirts off, but there isn't any pressure. Now I know that our school is not a swimming pool, but it is a public place and no one has complained or seemed offended by us practicing with our shirts off.
The boy's basketball team being restricted from taking off their shirts in practice is extremely pointless. The team wants to be able to distinguish teams during practice. The team wants to keep the tradition of "Shirts and Skins". The team wants their shirtless freedom! And finally, the team wants your help; the help of standing up to our school and letting them know how crazy it is to deny the boy's basketball team the right to take their shirts off in practice.